Announcement re: transducation.net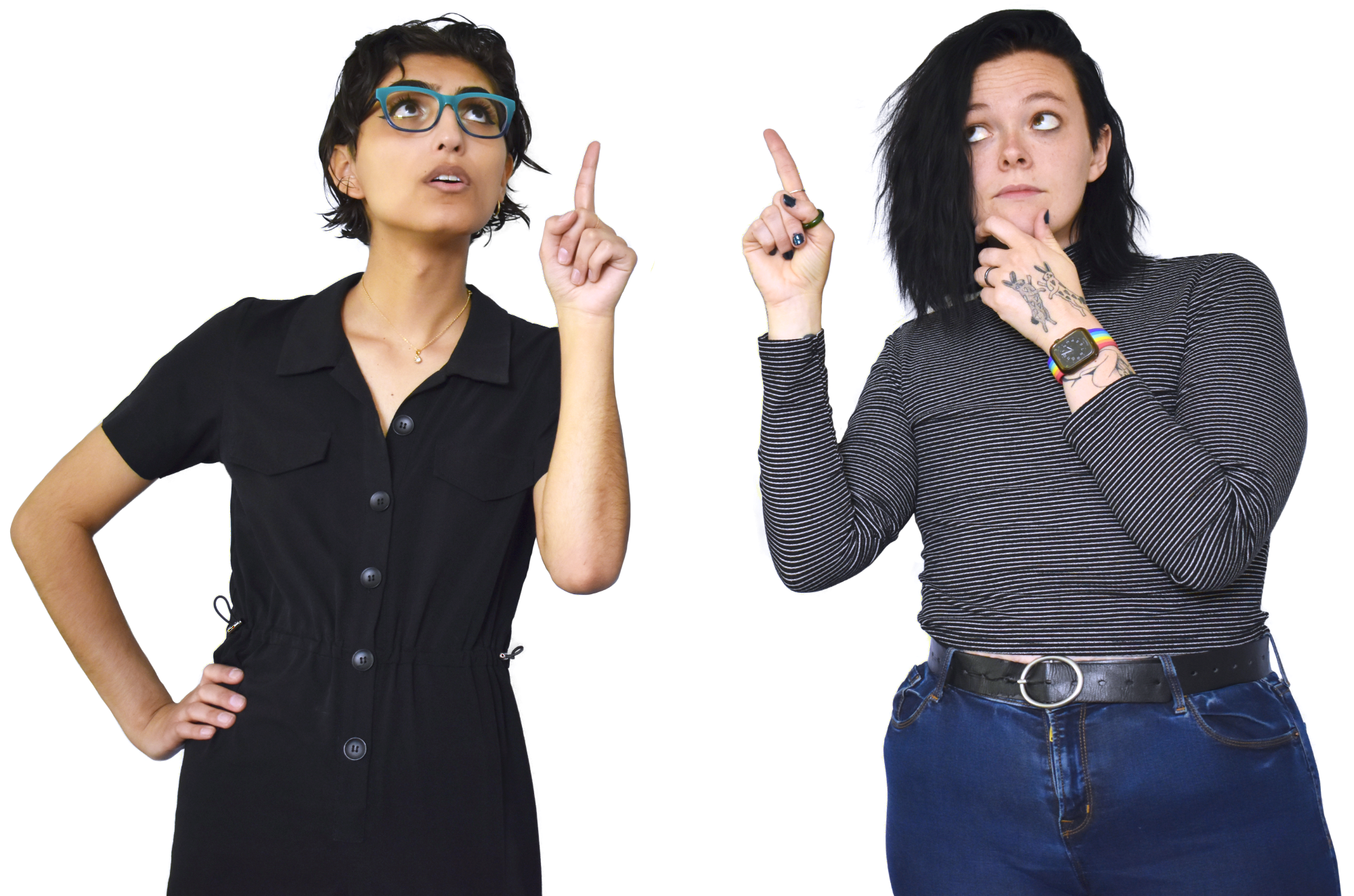 Illustrated by Lynn Irwin.

Hey everyone,

Great news: I'm the new Education & Outreach Program Manager for the Transgender Resource Center of New Mexico! I'll be doing trans trainings there from now on. If you'd like to schedule virtual or fully-masked in-person trainings with me, please email me at stacy@tgrcnm.org. Thank you so much to everyone who requested and enjoyed my services over the past year when I was just an independent educator—your support means the world to me. Let's keep the education going at TGRCNM!

While transeducation.net will remain as just this one-page notice, pronounzine.com will stay open for business. Soon, I'll even be publishing a brand-new zine with illustrations by Allie Ponce (she/they), so be on the lookout!

— Stacy Fatemi (they/them) ♡

P.S. If you'd like to explore the old website, you can start at transeducation.net/#old-homepage.
IMPORTANT NOTICE: I've joined the Transgender Resource Center of New Mexico! If you can somehow schedule a 101 or 139 presentation with me to take place on or before April 11th, 2022, I welcome you to do so. After that date, I will exclusively be doing presentations with TGRCNM, and you will soon be able to contact me through them to schedule with me (old clients and new clients alike).
Trans education, training,& workshops
Trans and nonbinary people exist, and they deserve respect, recognition, and support. As such, it's important to learn about them—but that learning should be fun and exciting, not boring or punitive!
I'm Stacy Fatemi (they/them), a real-life nonbinary trans person. I've been doing trans education since 2017 for organizations, students, government agencies, and any other group that happens to be in need of high-quality gender knowledge. Interested? Please take a look at the courses I offer—there's something for everyone!
Courses are currently offered in English and take place via webinar due to the ongoing pandemic. In-person courses in New Mexico will resume pending significant improvement in the overall conditions.
© 2022 Stacy Fatemi
About
My name's Stacy Fatemi, my pronouns are they/them, and I'm 24 years old. I'm from Albuquerque, I'm the child of immigrants, and I've been out since 2014.
I began doing trans education out of frustration with the lack of trans knowledge and sensitivity I see in all sorts of organizations in everyday life, from institutions like universities all the way to your average corner store. I got tired of having to explain and justify my existence to everyone, so I figured I'd try to make things better from the top down instead of from the bottom up.
I believe in leaving things a little nicer than how I found them, so I like to work behind the scenes with the places I present at to try to make lasting improvements for trans and nonbinary people. Whether it's suggesting policy change or giving profession-specific advice, I do what I can to make sure that it's never just a one-and-done training.
© 2022 Stacy Fatemi
Course offerings
In order to ensure relevance and engagement, all courses below are modified to suit the environment in which they will be delivered. There is always a question-and-answer session at the end—as these sessions can vary in duration, they aren't included in time estimates below.
Not sure which one is right for your company, organization, or class? Email info@transeducation.net and we'll figure it out together!
TRANS101: Intro to Transness
In this introductory course, participants will be exposed to basic concepts: the difference between gender and sex, what makes someone trans, how people transition, and how to show respect to trans folks.
(~1 hour)
TRANS139: Trans/Nonbinary Crash Course
A happy compromise between the 101 and the 178 in one information-dense hour! We'll lay a solid foundation and learn about gender in a fun, engaging way full of quick activities and apt metaphors. Don't forget to leave time for questions!
(~1 hour)
TRANS178: Intro to Gender Outside the Binary
The gender binary of man and woman is a pervasive myth in Western society. We'll learn about what it means to be nonbinary, disprove common myths, and find out what we can do to mitigate the impact of issues faced by the nonbinary community.
(~1½ hours)
TRANS202: Topics in Transness
For groups that already have a basic knowledge of trans and nonbinary people. This workshop is what you want it to be! Every group has different needs, but possible topics could include trans-exclusionary ideology, legal issues, a deep dive into transition, and how to support those who are physically transitioning.
(1-2 hours)
TRANS234: Busting The Binary in the English Language
Recommended prerequisite: TRANS178 or TRANS202
What if you already have a solid foundation of gender knowledge, but need a focus in language? This is the course for you! We'll pick apart the gendered conventions of the English we use today, and learn to use inclusive, respectful language for all kinds of situations. Supplementation with Pronouns: What's the Big Deal? is recommended.
(~1½ hours)
TRANS265: Us vs. Transphobia
Recommended prerequisite: 100-level course (TRANS101 or 178)
The hatred of and discrimination towards trans and nonbinary people is a pervasive issue—not just in courtrooms and houses of congress, but in such familiar settings as gyms, classrooms, and offices. We'll learn the power we have as a collective to combat transphobia, how to protect trans folks in a variety of situations, and how even small choices can make a big difference in the safety and well-being of the trans community. Get ready to stir the pot!
(~1½ hours)
TRANS300: Trans Culture and History
Prerequisite: 200-level course (TRANS202, 234, or 265)
While trans and nonbinary people have existed as long as society and culture have existed, Western cultures have long attempted to stamp us out—recently, this effort has gone global through cultural hegemony. We'll elucidate the trans struggle for rights and recognition, talk about the practices that have kept us safe throughout, and discuss the modern hallmarks of trans culture.
(~2 hours)
TRANS340: Growing Up Trans
Prerequisite: 200-level course (TRANS202, 234, or 265)
Does "sudden onset gender dysphoria" really exist? Is there a racial aspect to coming out to your family? We'll explore the defining themes of a trans childhood, and how a lack of support and representation can lead to problems later on.
(~1½ hours)
TRANS350: Being Trans in the Workplace
Prerequisite: 200-level course (TRANS202, 234, or 265)
Did you know trans people are unemployed at three times the rate of cis people? In this training, we'll examine job discrimination, rethink what professionalism means, learn how to support trans coworkers and employees, and find out how diversity really does trickle down.
(~1½ hours)
Have an idea for another course? Maybe one that we can collaborate on?
Let me know!
© 2022 Stacy Fatemi
Consultation services
In addition to the courses I offer, I'm also available for consulting on a variety of topics ranging from company policy to bathroom signage, as well as sensitivity reading for trans- and nonbinary-related works. Just send me an email and let me know what you need!
© 2022 Stacy Fatemi
Reviews
"Stacy's presentation on trans and nonbinary identities was eye-opening. They provided a safe space to learn and to participate in while also remaining friendly and professional. I thought the language used was easily accessible to anyone wanting to learn more and perfect for those people who may not fully understand trans and nonbinary identities. I left the presentation pondering ways I can be more inclusive and understanding! I can also say that I feel 110% more informed about this beautiful world we all live in, and motivated to learn even more about the trans and nonbinary community." ―Jared Mills
"I recently had the pleasure of attending a presentation by Stacy on gender and transness. Their presentation was incredibly well put together and refined, both in terms of content and visual aids. I thought I knew a lot about the issue prior, but Stacy really helped solidify my understanding and answer my outstanding questions. My peers who knew very little about the topic previously found it helpful in navigating pronouns, topics about trans and other queer people, and generally feel more comfortable discussing related topics and interacting with people with LGBTQ+ identities. In fact, some have already started using my preferred pronouns (I am fine with she/her but prefer they/them), which makes me feel more supported and comfortable in the space we share. Stacy was both very open about their own experiences as a nonbinary trans person and prepared with the science to back those experiences up. They have clearly put a lot of effort into figuring out how best to inform the lay person about these issues. I cannot thank them enough for the energy they have spent on this and I think everyone can learn something from Stacy's presentations. If I get the opportunity to attend another presentation by Stacy, you can bet I'll be in the audience. Thank you, Stacy!" ―Lauren Boulanger
© 2022 Stacy Fatemi
Pricing
The rates for these courses vary heavily based on the setting and number of participants; as such, I can't print any one price for any given course. Let me know about your group, company, or whatever audience it is you'd like me to present to, and we'll settle on a fair price for the both of us!
Go to the contact page and we'll figure it out together!
© 2022 Stacy Fatemi
Contact
You can either fill out the form below to get started, or you can send me an email at info@transeducation.net with questions. If you'd like to know more about prices for the courses, please visit the pricing page.
© 2022 Stacy Fatemi